Dangerous minds or the Debil Inside Him
Paulina Uryszek on 'Diabeł, który' ('The devil, which') staged by the Leon Shiller Polish National Film, Television and Theatre School in Lodz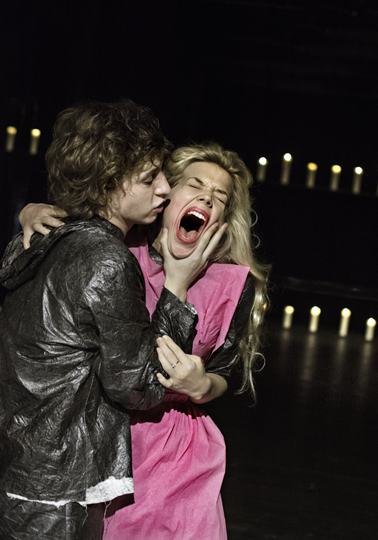 The stage is surrounded by altar candles and one can hear the church bells calling from time to time. We find ourselves in a small village which greets strangers only with closed doors and minds. The time of the play? Back when the term 'psychologist' was not coined yet and every neurotic disorder a child could have was diagnosed as 'a moron, but you can beat some sense into him'.
Obviously, this does not mean that we are about to witness a group of identical characters turned into mindless zombie by religious indoctrination. Students of Film School in Lodz perfectly know that no man is one-dimensional and each of them worked very hard on their own part. Characters we see on stage are perfectly considered and individualized. Their personalities clash almost constantly which is naturally very engaging for the viewers.
The actors create a great tension which does not allow for a single moment for relaxation and it is a bit tiring. The only moments when the viewers are allowed to take a breath are the rehearsal recordings accompanying certain scenes. Each actor speaks a few words about his or her part and fears about the final effect. We can see the team working on stage but also having fun during a break. An interesting idea to show the inside out of the process. After all, apart from a certain artistic vision, a spectacle is also a diploma exam and an opportunity to present yourself to future employers.
Original musical intermissions are also noteworthy. 'Diabeł, który…' begins with a rhythmical, mystical song. Some of the actors get the opportunity to present their vocal abilities while singing songs weaved into the play's plot, like in a touching scene between the mother and her son which was added to the original story by the director. The successful re-interpretation of the drama by Mariusz Grzegorzek manages to breathe a new life in this tale. Blindness caused by religion. Lack of acceptance for the different, even if they are a part of your family. Bullying at home. Social exclusion of a sick boy and a young girl expecting a child. Questions about soul, morality and values. Those are the ever-present problems which were skilfully extracted of the drama.
The history itself is poignant. Eventually, we are unable to answer the question 'Who is Huw, the main protagonist?'. Is he an oversensitive, incomprehensible and a sick poet? Or maybe he's a dangerous lunatic, impossible to be civilized? Above all – where is the nest of this petrifying evil? In this play, everyone is guilty – the pastor reigning supreme over the whole village, a boy governed by his urges and instincts, a hothead father running away from reality and his domestic problems into devotional spirituality and work, a mother unable to face her husband until the very last moment who unloads her anger on servants and eventually the murder victim who was doomed by her own vanity.
This spectacle is a great war of ideals which the actors are able to convey with stunning energy. They do their best on stage which deserves a huge applause, even though the repetitiveness of acting solutions can sometimes be a little bit dull. However, this is only a minor drawback. This emotional drama was staged in such a rebellious and wild way only the generation of dangerous minds could dream of.