Painfully
Piotr Piotrowicz on 'Pelikan. Zabawa z ogniem' ('The pelican. Playing with fire) staged by the Aleksander Zelwerowicz National Academy of Dramatic Arts in Warsaw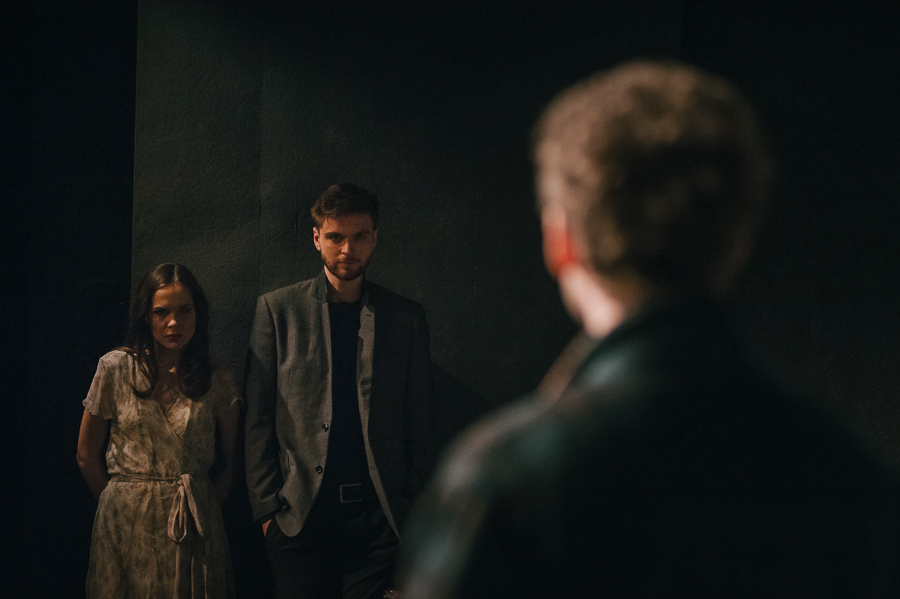 Two one-act plays written by Strindberg. First, 'The Pelican'. Then a merciful break followed by 'Playing with fire'. Even though those two plays are separated by 14 years of the author's dramatic activity, one cannot resist an impression that we are still stuck in the same sweaty room and severe interpersonal relations. This impression is magnified by the scenography which practically stays the same. An arbitrary room with four walls, a table just stubbornly standing there in the same place, a desk and a door in the back. There is also a rocking chair which, despite its huge importance for the first part of the diptych, is later on replaced by an equally important white openwork chair. All these objects along with people are engulfed with darkness, only occasionally basking in the light of an old-fashioned light bulb. This is how it starts. In 'Playing with fire' darkness gives way to the light of an early morning coming through the glasses of a rich summer house and not a poor apartment in some tenement. Which floor is it, you ask? Well, it's high enough to kill yourself, when you jump out of the window.
It is beyond doubt that Jan Englert has directed his spectacle in a very elaborate way. One could almost say meticulous. Little gestures become symbols and commentaries to the constantly tragic predicament of the characters. Let us use the example of a scene when Gerda, recently married to Aksel, still unaware of the fact that her recently acquired husband is thinking only about receiving the non-existent inheritance and even if he is in love someone (or rather feeling lust towards someone), it's her own mother, sits down by putting her chair between her mother and husband, thus separating the conspiring couple.
Objects also carry meaning and nothing here is coincidental. On the said openwork chair, somebody put the portrait of another Aksel (invisible to the audience at first), a man in passionate love with the wife of his best friend who accepted him under his roof. Generally, it might seem that both the rocking and the openwork chair are both an axis of the plot and represent messengers of the absent – the dead father in 'The pelican' and, as previously stated, the initially absent friend. Both are the forces driving the dramatical plot, pangs of conscience, objects of desire and hate. Sometimes, they are all of those combined.
Actors play the Strindberg's partiture with the utmost tension, but it is usually manifested with a long pause, silence or a protracted look. Moments of agitations expressed with shouting occur sporadically and so do violent interactions between the characters. Once again, one word comes to mind – precision. Everything about this spectacle is devised in a way to amplify the tension of the plot and to extract the unobvious out of Strindberg's play. The opening scene is a good example – Eliza, a mother, a widow and a monster who eventually commits a suicide, has an argument with a servant and proceeds to molest her as a kind of a power gesture. Everything is painfully minimalistic, manifested by only a few blatant gestures. This is a theatre of a sweaty metaphor. Painfully sweaty.