The sound of loneliness
Jan Karow on the spectacle 'Glenn' staged by the Department of Directing of Aleksander Zelwerowicz National Academy of Dramatic Arts in Warsaw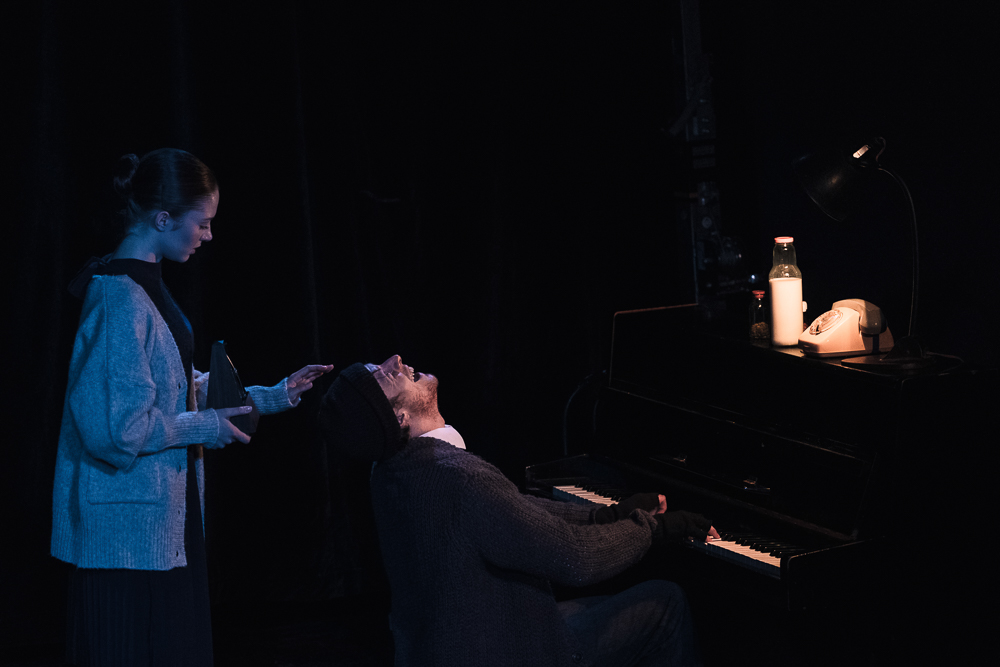 Interpretations of Bach music performed by Glenn Gould are a meeting between two geniuses. Even though they are very different, paradoxically both his versions of The Goldberg Variations resemble the pattern of metro in Sèvres. Trying to reach perfection is a very specific path and those willing to take it have to pay a special price.
'Glenn' by Jan Jeliński is a low-key impression on the loneliness of an extraordinary artist written just for two actors. We meet the Canadian pianist (Piotr Sędkowski) at the moment of a radical decision – he decides to stop performing. Terrified, his hands shaking, he gives a bow and then leaves the stage running. From now on, we will see him hiding next to his piano, his back arched while sitting on a low stool. He's trying to calm down with the humming sound emitted by a small speaker, swallowing pills and washing them down with milk. His hands are gloved and always cold, but that does not prevent him from arduous training. One can hear either fragments of the Aria opening the cycle of mentioned Variations, but also of the contrapunctus from Die Kunst der Fuge or the first bars of toccata from the 6th partita. Some of the renditions fall apart. Fingers cease to respond and they don't hit the right keys. Glenn himself also seems to be falling apart.
The three entrances of Sonia Mietelica seem to set the structure of the spectacle. At first, she seems like an image from the pianist's imagination. In her hands, she is holding a metronome marking a moderate tempo. She sets her steps to its beat and begins to scold Glenn, interrupting him in a middle of a bar. She tells him he lacks rhythm but she manages to keep her composure. She doesn't raise her voice. At some point, she hesitates to stroke his hands, but her palm remains hanging in the air. During her next entrance, she assumes the role of a journalist trying to conduct an interview. This is when we learn about his resentment for the stage, the motives behind leaving it and that it's not a temporary decision. He says he hates the audience which in his eyes is nothing more than a blood-thirsty mob waiting for physical stunts. One of his unequivocal ideas is that loneliness is the perfect condition for an artist. When you see him on the street, you should cross to the other side. Just leave him alone.
And Glenn ends up alone. There is a part of him that demands any form of contact with other people. He jumps on his legs to call someone, a woman. We don't know her name and who she is. Glenn tells her about the composition he has been practicing and that he finally got familiar with the two-part invention. He asks his interlocutor for just one thing – not to hang up. He puts the telephone on the keyboard and starts to play, but his weakness does not allow him to play more than just a few bars. The melody begins to crumble and Glenn collapses on the floor where he begins convulsing. That is the last moment She appears on stage. She is wearing a black dress and no shoes. She makes mild gestures with her hands. Bathed in the blue glow, she looks spectacular. Who is she? Beauty? Harmony? We don't need to know that, since, much like a well-introduced counterpoint in Bach's music, she completes the portrait of a shattered artist who chose a lonely life for the sake of his music.